In case you missed it, the World Economic Forum (WEF) recently ranked the top five global risks in terms of likelihood over the coming years, all of which were linked to climate change and related environmental issues. This is the first time one category has swept all five spots. In regards to confronting these risks, emerging technology in particular has been a focal point for WEF, especially when it comes to governance, standards, and widening socioeconomic gaps across the globe.
[Note: this post was originally released before the COVID-19 pandemic. Currently, global risk and emerging technology are even more pertinent.]
Let's not dance around the issue at hand—PALO IT plays a part in this quandary. If you are invested in technology, you've got a hand in the pot. So, how do we address these concerns? How do we grapple with such a massive swell of change in 2020 and beyond? The first step, as our founder and CEO Stanislas Bocquet puts it, "is acting with courage, and getting out of our comfort zone. Taking a hard look at our current business model and stepping up to the challenge at hand, that's number one on our to-do list."
The state we're in
When PALO IT was founded in 2009, our success—and the success of the tech community as a whole—was directly measured in the amount of money earned.
But that simple-minded definition of success, the almighty $, leaves a bit of a bad taste in your mouth does it not? All this proclamation about drastic change is to say that, as beneficial as our current model of success has been for some, there aren't as many winners as there used to be. The richest 10% of the population own 82% of global wealth, and 1% alone own 45%. Ouch…
Not to say we drop all we've done and start from scratch, but there's got to be a more inclusive business paradigm out there than what's been so firmly ingrained in our collective business psyches.
"It's not that grandiose, we do have the capacity and the ability to use tech as a force for good, to build a new social model, a new environment," says Bocquet. "It's pointless and selfish to play the blame game for who's responsible for what's been done in the past. What's important now is being an engine for change."
High time for change
We're likely preaching to the choir when we say "it's time to reassess". You know that, you've heard that, but the simple fact is doing can be a lot tougher than saying. And don't get us wrong, we've run into our own snags when striving to be an impact-driven company. Flipping the way you think and operate at an organisational level is not for the faint of heart.
But if there's one thing we've tried to keep in mind throughout our journey, it's that doing is of utmost importance, and in 2020, that's what we're all about…
Awareness is the first step in change, and sitting front and centre in our company consciousness are the UN's 17 sustainable development goals (SDGs)—a set of global targets designed by the UN to build a better and more sustainable future for all. Within this prototype for change (visualised below), and contrary to the popular lexicon of today, sustainability is not a very inspiring goal. "Sustainability isn't a target, it's not enough," says Bocquet. "We can't get back what's already been destroyed, but we can generate something new."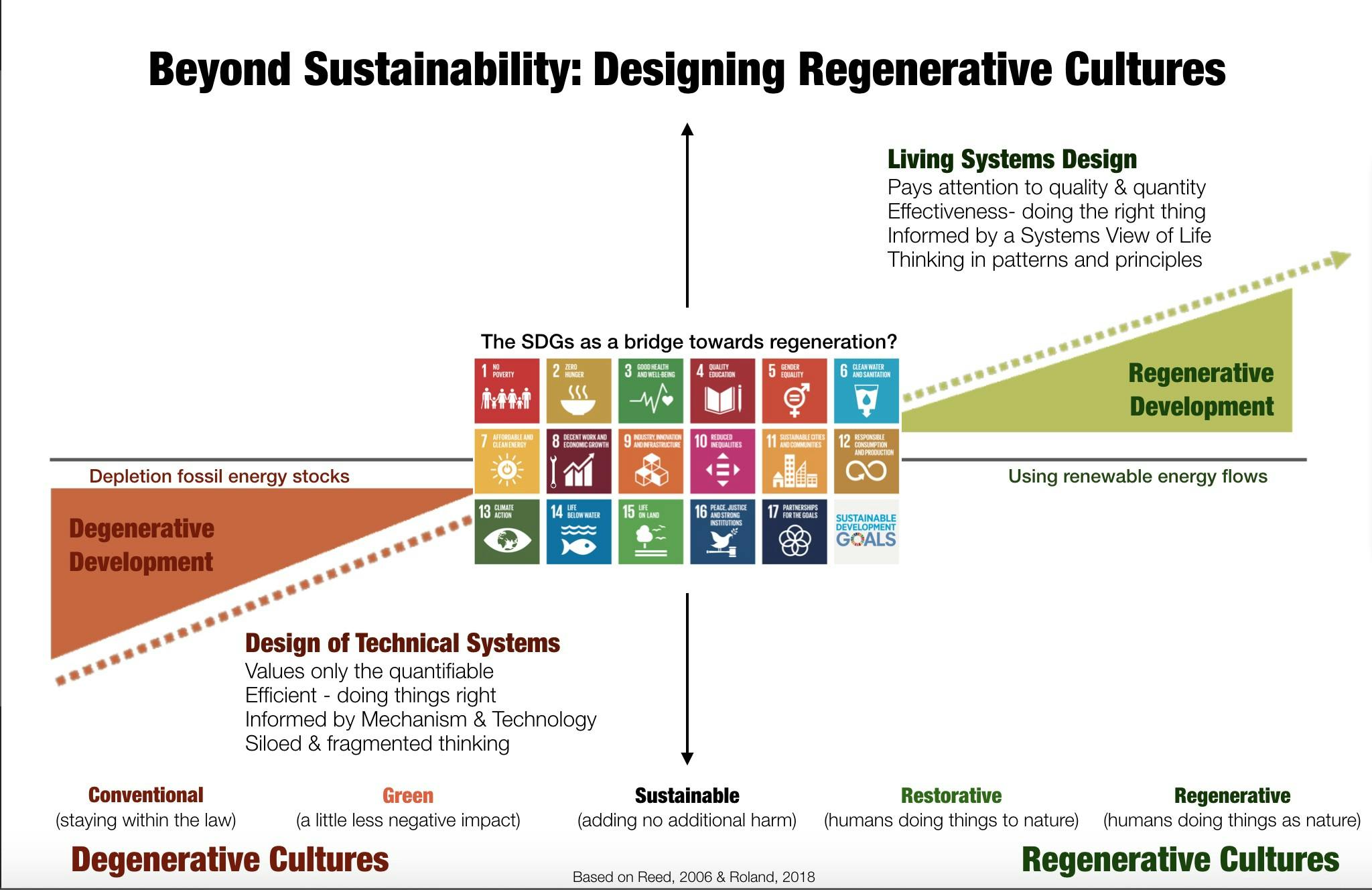 Source: Graphic adapted from Ethan Roland 2018 by Daniel C. Wahl
Bocquet goes on, "The regenerative mindset, that's our strategy now and for the future, encouraging transformative innovation. As a consultancy this naturally means change isn't just happening internally, but externally, with our clients and partners as well."
The 17 SDGs are a sort of North Star for PALO IT, and they allow us to benchmark this 'regeneration' in the work we do. We're not the only ones, 75% of CEOs say they are investing in digital to address sustainability challenges, and what's more, 63% of CEOs see fourth industrial revolution technologies (digital, physical and biological) as critical accelerators in the socioeconomic impact of their companies.
Our own unique position sits at the intersection of these two trends that are currently shaping business. First, digital transformation. With more than 50 percent of the world online, this isn't so much a trend as it is a prerequisite for doing business nowadays. 
Second is impact transformation, finding that bedrock of purpose on which you can build. This might not be as omnipresent as digital, but it's not far off. Even investment managers—some of the most financially accountable, money-minded individuals—are touting impact-driven businesses as a good investment, not just a good deed, and ESG (environmental, social and governance) criteria are becoming mainstream in evaluating corporate performance.
Operating at this intersection, we've found that we can affect a much larger ecosystem of businesses dealing with: impact technology, positive impact innovation, and products that are ethical by design. These like-minded organisations are searching for a way to use their work to make positive change—like creating less waste, supporting the marginalised, or lobbying governments for change.
Beyond these individual project evaluations, having a sort of dashboard in keeping tabs on our processes and progress is crucial in measuring impact. For example, becoming a B Corp certified company has done wonders for this purpose.
When it comes to our own benchmarks for 2020, we're dedicated to what we've termed a regenesis program. This program tackles three distinct dimensions: mindset, skillset, and ecosystem.
Mindset is a no-brainer (no pun intended). In the words of our Chief Innovation Officer, Cedric Mainguy, "We need to take a step back and understand the many crises that are of our making, that are linked and intertwined, but that's just the starting point." He goes on, "You cannot change systemic crises unless it comes from the people, and fundamentally, we need to come to the realisation that we need to change our ways, change how we conduct our lives and do business. Whether it's consumerism, transportation, going on holiday...it incorporates broad parts of our lives, and this change is for everyone to undergo. When we no longer interpret ourselves separate from nature, we understand that what we do to nature and to others, we ultimately do to ourselves."
"So, it's time to elevate our perspective, look at the big picture and understand what's going on in the world. You might call this a holistic approach. It's a very unique journey for each person, yet we're all united in our goal."
Speaking of goals, in 2020 we're aiming to train 100% of our company in practically using their skills to make an impact through their careers. As they say, "knowing is half the battle", and this is especially important in a company that operates across five continents.
Skillset is when we start putting this ethos into action. In 2020, every office aims to head at least one impact project. "Most offices will lead at least two, and honestly, we hope to overachieve in this aspect," says Mainguy. "Our big goal for this KPI is being able to assess the impactfulness of our projects and company as a whole. Not just doing the work, but evaluating how it's affecting our world."
This dimension is our end-to-end offering in a nutshell, as it takes the corporate benefits of technological innovation and shines them through the lens of positive impact. From our offering, to our practices, to marketing, finance, every aspect of our organisation—our skillsets should create value for both our clients and our world as a whole.
Ecosystem is the dimension when others join us in our journey. From governments, to startups, to NGOs and corporations, right down to individuals, our hope is to address global challenges as a cohesive and diverse community. Instead of approaching issues in a fragmented fashion, or with siloed initiatives, we have the opportunity to come together to make a difference (both internally and externally), uniting around a common objective. 
For that purpose, each PALO IT office will carry out five joint, impact-driven actions with partner organisations in 2020. We want to start building roadmaps together, looking at what we can work on outside of our company, and branching into other organisations.
Our regenesis program signals an exciting new chapter for our organisation, but it's only the tip of the iceberg in what we hope to accomplish, "This year is all about creating a framework," says Mainguy, "so that in 2021, we'll start to see it implemented everywhere."
Interested in being part of the solution? Give us a shout anytime, we're always searching for new partners in making a difference, and new players in the market's growing, impact-driven ecosystem.